Why should you commute by electric scooter in Auckland?
Now more than ever, you should be looking for alternative modes of transport to get you to and from the office. Electric scooters (e-scooters) are becoming ever more popular in cities like Auckland. Auckland has some superb cycling infrastructure, helping you to ride to work safely, without having to worry about sharing the road with frustrated motorists on their way to the office. It is not worth sitting in traffic jams only to pay extortionate prices to park (if you are lucky enough to find a spot) when there are more fun and affordable ways for you to get around your city. Follow our store to check out latest electric scooter and electric bikes in Auckland.
Electric Scooters have come a long way in recent years. No longer are they just a toy for children. There is now a more comprehensive range of electric scooters for adults, to help cut down travel time and increase your freedom. Start your day right, by making your own way to work, while enjoying all that the streets of Auckland have to offer. Electric scooters are often faster than bicycles (unless) you get an Electric Bike, cheaper than cars and take a lot less effort to go long distances than walking. But there's more than that – they're quiet, small-ish, and more environmentally friendly than driving, so they're a far more sustainable mode of transport.
The main convenience of e-scooters is their portability; you can use an e-scooter to cut down your commuting time and use it to get to the station, fold it up and jump back on it the other side to nip straight to the office. You do not need a parking space for your electric scooter, nor do you have to lock it outside the station (fearing whether you locked it up securely).
The perfect alternative to public transport
 If you currently get to work by Bus, Train or Ferry, you should question whether this is the most economical and safe way for you to get around Auckland. Instead of buying a monthly or annual ticket, you can invest in an e-scooter. You will save money in the long term and finally have fun on your way to and from work. Check out our store for latest and best reviewed electric scooter and electric bikes in Auckland
E-scooter rentals… Should you bother?
We cannot talk about e-scooters without mentioning the rentals that have started littering Aukland's streets in the last few years. There are currently four companies vying for the market Flamingo, Beam, Lime and Neuron. At first sight, they look like a cost-effective way to get around. However, after a few short trips, you soon realise that the price to use these garishly coloured e-scooters soon reaches levels that leave you questioning whether it was worth it. You usually need to pay an "unlocking" fee, ranging from $0.45 to $1, and then you pay per minute of your journey (Between $0.38 and $0.45). Unless you are going to use them for less than 10 minutes, you are paying over $5 a journey. All that and you do not get to keep it once your ride is over. Buying an e-scooter is a much more cost-effective way of making the most of this unique and fun form of transport. You will also know that the scooter will be where you left it when you need it next time!
Safety concerns
Auckland has a great network of cycleways and shared paths, you can share the path with cyclists and pedestrians for most of your journey, without having to worry about going on the roads. With their small wheels, people often wonder if they are easy to control and whether hitting a stone or pothole in the street will throw them off balance. The short answer is no; they are surprisingly stable, e-scooters such as Sonic 600w 48V have suspension, for added comfort and control. Even those without suspension, still feel stable, thanks to their low clearance, and grippy little tires that absorb the bumps in the road. Here are some the best reviewed electric scooters in Auckland on google available at Black Sheep Trading 
Sonic 600w 48V Electric Scooter
600w 48v
Aerial Aluminum Alloy
Battery capacity: 48V 13Ah lithium-ion batteries
Tyres : Front & rear pneumatic
Front and rear brakes
Suspension : Front spring, rear air shocks
Top speed: 40 Kmh
Up to 30 degree climbing angle
SONIC 2400w Dual Drive Electric Scooter
Frame: Alloy compostite
Brake: Hydraulic disc brake
Brake lever: With power cut-off
Suspension: Front & rear
Max speed: 70-80km/
The simplicity of e-scooters is what makes them so safe and the perfect choice to get around Auckland. All you need to worry about is making sure there is enough charge in the battery to get you too and from the office. The best e-scooters have a minimum range of 20km, increasing all the way up to 100km on a single charge. With that kind of capacity, you do not need to worry about them losing charge mid-journey. Also, because you can park up at your desk, you can make use of your companies generosity and plug it in to charge while in the office.
When you buy an e-scooter, you should get some protective gear, although they are safe and you will spend much of your time on the paths, you should make safety a priority and invest in a well-fitting helmet. Before setting off, do a quick once over to make sure that nothing is loose and the brakes are working.
E-Scooter or E-Bike
 Although electronic scooters are great fun, they can feel like cheating, as you only need to give them a little push to get going, then you let the scooter do the rest, while you stand there and look good. Your smartwatch will not be impressed with your sudden drop in steps and activity levels. If you are committed to freeing yourself from Aukland's public transport network but want a bit of a workout, then check out e-bikes. Unlike the e-scooter, most e-bikes require you to contribute some effort and pedal, with the motor assisting throughout your journey. With a higher range and the opportunity for you to opt for manual only, they are excellent for longer commutes. You do not need to worry about getting too hot and sweaty on your commute, as the motor will help you to reach speeds you never thought possible. Have sneak peak at our store to check out latest electric scooter and electric bikes in Auckland
E-bikes come in all shapes and sizes, but one thing they all have in common is that you can ride further for longer. With the ability to continue pedaling even after the charge has run out, you do not need to worry about being stranded halfway to work. E-scooter or E-bike… whichever you decide is the best for you to commute in Auckland, you will not regret ditching fossil fuels, crowded trains or time-consuming walks in favour of electric power. You can get to the office quicker and look cool en route. Here are some the best reviewed electric bikes in Auckland on google available at Black Sheep Trading 
SONIC URBAN ELECTRIC BIKE
250w 36v Rear Hub Motor
36v 8.8ah lithium-ion battery
3 speed LED display
35kmh
35-60km range depending on riding
Shimano 7 speed
26inch wheels
Aluminium mechanical V brakes
SONIC CITY Electric Bike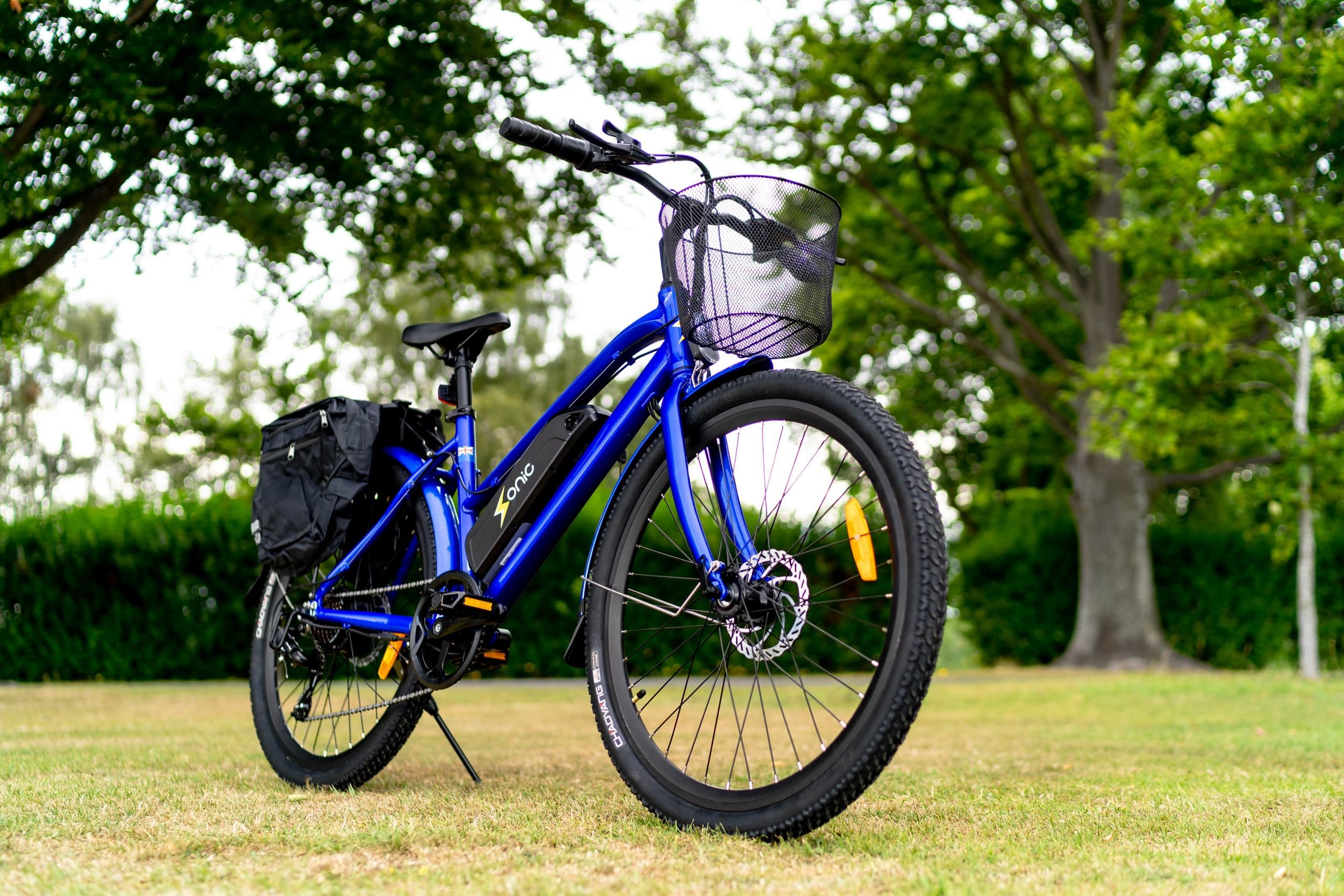 Hybrid tyres for a smooth ride
Easily removable 36V 8.8Ah Li-ion battery
Up to 40km on a single charge
Lightweight 6061 Alloy frame
Bright 

LED

 headlight
3 Speed LCD display
35kmh
26 inch wheels
The future is now – Join the revolution !
E-scooter and  E-bikes are not only more environmentally friendly than most other forms of transport, but they also cut down your commuting time. Instead of strolling down the paths, you can zip along and make the most of the extra time you have, by catching up on more sleep or spending time with your family. Your goal should be freedom and maintaining the right work-life balance, why waste over 5 hours of your life each week, waiting for and boarding a train with thousands of other commuters making their way across Auckland. Take control of your commute and harness the fun and freedom that comes from owning your own e-scooter/e-bike. Check out latest electric scooter and electric bikes in Auckland